Custom Cruisers Ltd
Hope to see you soon, or, call for a free catalogue on your bike!! free of charge in the post to you. You can plan your trip up and perhaps spend a weekend in beautiful Matlock and surrounding biking roads with cheap accommodation all over the place or camping available too Call us !!
come see us soon!!
we have over 5000 products in stock-no BS!
We are bikers working with you the biker not just box shifters in it for the profit till something better comes out
-Mike and Tina
For Simpson Helmets and Motorsports equipment see www.simpson-helmets.eu
Contact Details
Heres how to Find us-
UK sales- 01773 835666 NOTE: OVERSEAS BUYERS:
If your country is not listed please call us (+44) country code - then 1773 8 35666), or email your order to sales@customcruisers.co.uk , we can then quote you for carriage costs. USA 011441773 835666 europe 00441773 835666
HOW TO FIND US DE55 7RL for Sat Nav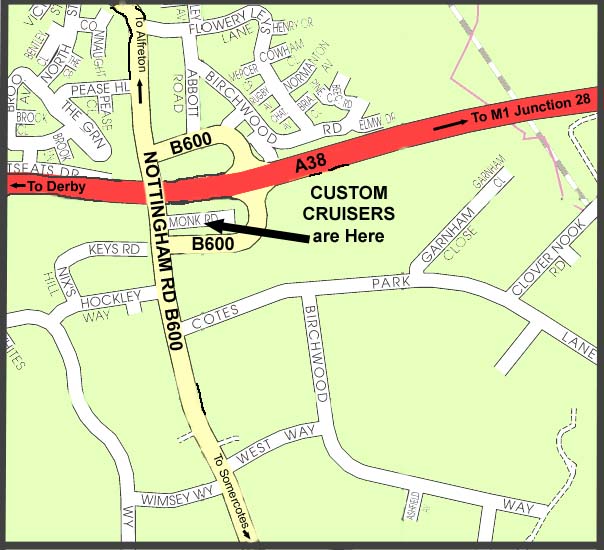 TURN OFF JUNCTION 28 OF THE M1 TAKE EXIT AND TURN TO A38 DERBY
THIS IS DUAL CARRIAGEWAY -TRAVEL 2 MILES TO 2ND EXIT (Signposted B600 Somercotes )
TAKE THE SLIP ROAD OFF AT TEE JUNCTION AT BOTTOM TURN RIGHT AND FIRST RIGHT -AGAIN THIS IS ONLY ABOUT 50 YARDS!!
IF YOU REACH THE A38 NORTH TURN YOU HAVE GONE TOO FAR -
IF YOU REACH GK FORD ,MACDONALDS ,YOU HAVE TURNED THE WRONG WAY .THE KETTLES ALWAYS ON !
WE CAN HELP YOU FIT SATURDAYS AND CAN POST OLD PARTS BACK YOU REMOVE EVEN EXHAUSTS SEATS AND LARGE ITEMS- .
CUSTOM CRUISERS Ltd
Contact Details
Visit our Showroom
Custom Cruisers UK Ltd.
Unit 5B, Monk Road Industrial Estate,
Alfreton.
Derbyshire.
DE55 7RL
Tel: 01773 835666
Fax: 01773 835665
Europe tel: 00441773 835666 fax: 00441773 835665
USA Canada tel: 011441773 835666 fax: 01144773 835665
Email: sales@customcruisers.com
Registered Office
Custom Cruisers UK Ltd.
65 Main Road,
Leabrooks,
Derbyshire.
DE55 1LA
Custom Cruisers UK Limited is a company registered in England and Wales under company number: 03510929. VAT number: GB 706295433.