Premium Wagner Tank Sealing! Remove Rust Easily And Quickly!
Modern Ethanol Fuel Causes Rust....But here is the CURE!
Wagners Premium Tank Sealant:
Ethanol Tank sealer is HERE! After trying many types of tank sealant and rust removers, we have finally found one that works....really, really well! We can guarantee a clean, rust free fuel tank after using Wagner!
Buy your Wagner premium tank sealant and rust remover kit now by contacting us or adding the product to your cart shown below!
Buy your Wagners premium sealant now and get your tank looking better than brand new! Remove all the rust created by modern ethanol fuel and be left with a shiny, neat finish!
Since the introduction of lead-free petrol (gasoline) unsealed fuel tanks have a higher tendency to rust, which presents a clear danger for fuel pumps, carburettors and fuel injection systems! However, petrol tanks are not the only ones at risk. Tanks in diesel vehicles and two-stroke vehicles rust through as well! That's where Wagner comes in!
------------------------------------------------------
Contact Us and Buy YOURS Now:
Call: 01773 835666
Email: sales@customcruisers.com
-------------------------------------------
Refer to image or video below ! for more in depth information about the available Wagner products, including great prices, and what Wagner products offer you and your bike!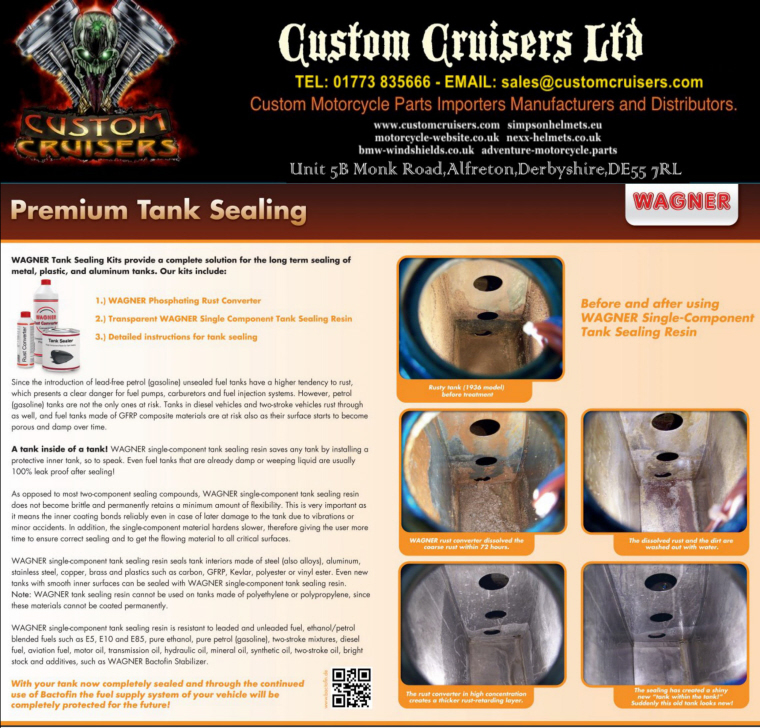 This is details on the complete car repair tank kit does up to 10 gallons see details on offer are for the 10 litre gas fuel tank size - Perfect for Harley Sportster older classic bikes Mike